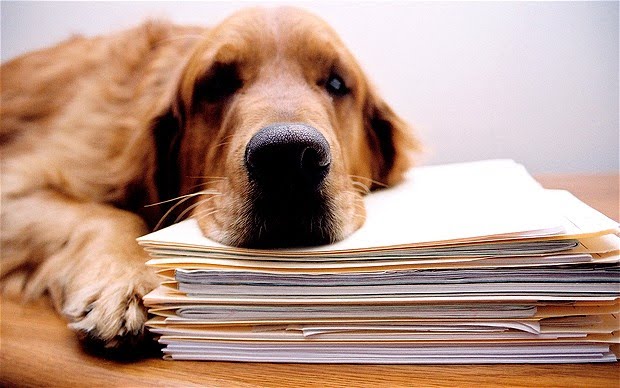 By
Nick Collins
, Science Correspondents
6:53PM BST 30 Mar 2012
82 Comments
Although bringing a pet to work could come with practical difficulties, a trial at an American company suggested it improved people's job satisfaction.
Dog owners also reported that it reduced their feelings of stress, which previous studies suggest can lead to higher rates of absence and lower productivity.
Researchers from Virginia Commonwealth University studied 75 people at a manufacturing company where each day for a trial week 20 to 30 people were allowed to bring their dogs to work.
Using samples of saliva taken throughout the day they compared levels of stress hormones among people who brought in their pets, people who owned dogs but left them at home, and staff who did not have pets.
First thing in the morning there was no difference between the groups, but during the day stress levels declined among people who had their dogs by their side and increased among the other two groups.
Related Articles
Should I be allowed to bring my dog to work?
13 Oct 2011
Having dogs in the workplace appeared to improve morale among all members of staff, regardless of whether their pets were present, the researchers reported in the International Journal of Workplace Health Management.
https://icmha.ca/wp-content/uploads/2012/04/01201001.jpg
388
620
Island Community Mental Health
https://icmha.ca/wp-content/uploads/log-300x200.png
Island Community Mental Health
2012-04-02 17:02:00
2015-01-17 21:55:42
Dogs could lower stress at work