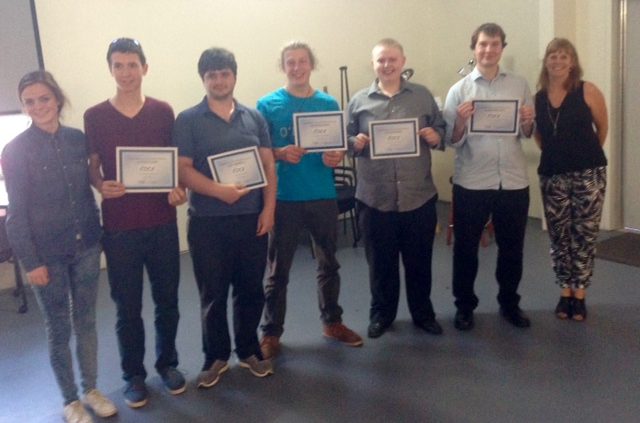 EDGE Graduation Crew VAN VIC EDGE Project 2016 Graduation Celebration Dinner
Project Graduation and Evening of Celebration
JUNE 15, 2016
"No matter how outdated or overgrown the path to success is, it is the path none the less" Jacob G.
What an awesome night. From the prepping of the room and the crew making dinner for their family members who have been there to support them through thick and thin, to the amazing public speaking and presentation of the project from the crew members. The feedback from both family and clinicians has been nothing but positive.
Never underestimate yourselves, as Brent says " Your journey of possibilities is just beginning", so the message of the evening was for the talented and courageous Vic crew to "Spread your wings and fly!". Brent wasn't able to make the event in person but made a video to the crew.
We started the evening by making gourmet sandwiches with Liam from Salt and Pepper Fox, prepping the room for an Italian family style dinner, and opening up the space for friends, family and clinicians and community partners for the crew's presentation about the VAN/VIC EDGE PROJECT 2016 and enjoying tasty treats from Souper Meals.
Here are some of the crew's project highlights, learning moments and accomplishment;
Jonathan:
One of the confidence boosters I tried to focus on was choosing to being around better people.People who are sober and will support me. My highlight of being part of the project was seeing the diversity of people affected by mental illness, and hearing their stories and being inspired by them. Mental illness must affect everyone somehow in their lives, whether it be personally, family member or friend, so that is why a program like this is so important.
Jacob:
One of my highlights was the Confidence Boosters – such as learning better boundaries through relationships and friendships, as they will impact my mental health and overall well being. Some ideas of how I will help mental health initiatives, will be through sharing my mental health journey in school and community presentations. This is important to me , as I would never wish others to have to go their journey alone.
Joey:
My highlight from being part of the Project was getting to meet new people that I could relate to, and feel safe around. I actualized my Dreamline goal in the first session – which was to get a job. By the end of the program, I WAS WORKING!!!! I shared about Protecting the Downside – the group realized that many of us had spent excessive time gaming in the past, and recognizing that it was a way to fill time when feeling anxiety and symptoms of psychosis.
Say tuned there's going to be another EDGE program offered and many of us will be returning as EDGE ambassadors! Feel free to comment below for more information.
Signing out:
Joey
Jacob
Jonathan
Collin
David
Justin
Gheeve
Check out the BLOG AT
https://vanvicedgeproject2016.wordpress.com/2016/04/14/276/
In partnership with:
ICMH
Island Health
Mavrixx
https://icmha.ca/wp-content/uploads/edge-graduation-crew.jpg
434
640
Pam Lewis
https://icmha.ca/wp-content/uploads/log-300x200.png
Pam Lewis
2016-06-16 12:58:45
2016-06-16 12:58:45
The First Class of Graduates from THE EDGE program offered by Brent Seal, ICMH and Island Health