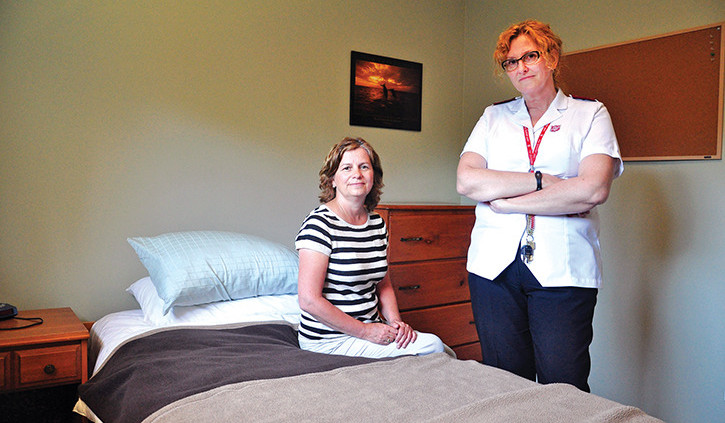 By Edward Hill – Victoria News
Published: July 23, 2013 8:00 AM
Updated: July 23, 2013 8:39 AM


A nondescript 1970s-era home in the Uptown area of Saanich holds six simple but tidy bedrooms, gardens, offices and a long dinner table.
For young men struggling with drug or alcohol addictions in Greater Victoria, it's the home away from home to regain control of their lives.
"There are very few treatment centres for youth (in B.C.). You've got to scour the province for a place to take youth and have it not cost a fortune. This program is really needed in the Capital Region. Youth need a place to go," said Maj. Kathie Chiu, executive director of the Salvation Army's addictions and rehabilitation centre.
Chiu and other Salvation Army staff gave community groups an inside look at the renewed Beacon of Hope House last Friday, which relocated from Vic West to Saanich earlier this year.
Up to six young men between 13 and 18 years old can stay at the house at any given time, typically for a month to three months.
"It is a very home-like atmosphere," said Sarah Jenkinson, a counsellor at Hope House. "It's important for youth in detox not to be institutionalized. This (facility) blends in well with the neighbourhood."
The Vancouver Island Health Authority chips in 25 per cent of the Hope House's $550,000 annual operating costs, and the Salvation Army funds the remainder for six beds, and 14 counsellors and residential staff members. To continue reading, click here.
https://icmha.ca/wp-content/uploads/2013/07/27044vicnewsSN-beaconhopehousePJuly2413.jpg
482
725
Island Community Mental Health
https://icmha.ca/wp-content/uploads/log-300x200.png
Island Community Mental Health
2013-07-24 16:54:00
2015-01-17 21:55:19
Giving hope to addicted youths