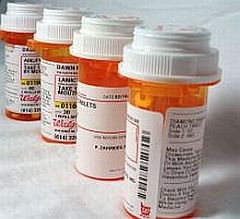 By Janice Wood
Associate News EditorReviewed by John M. Grohol, Psy.D. on March 21, 2012
When doctors prescribe
antipsychotic
medications
, they may be basing their diagnoses on incomplete information, according to new research.
In a followup study to a highly publicized 2008 report that demonstrated that
antidepressant
drug trials were selectively published, exaggerating the drugs' effectiveness, researchers at Oregon Health & Science University (OHSU) found similar concerns exist, though to a somewhat lesser extent, with antipsychotic drugs.
The researchers reached these conclusions by reviewing 24 FDA-registered premarketing trials for eight second-generation antipsychotics: aripiprazole (Abilify), iloperidone (Fanapt), olanzapine (Zyprexa), paliperidone (Invega), quetiapine (Seroquel), risperidone (Risperdal), risperidone long-acting injection (Consta), and ziprasidone (Geodon). They then compared the results in the FDA's review documents to the results presented in medical journals.
The researchers found that four premarketing trials submitted to the FDA — which yielded unflattering results — remained unpublished. Three showed the new antipsychotic drugs had no significant advantage over a placebo. In the fourth, the drug was superior to a placebo, but it was significantly inferior to a much less expensive competing drug, the researchers note.
In the published trials, there was some evidence that the journal articles over-emphasized efficacy of the new drug, the researchers noted. For example, an FDA review revealed that one of the newer drugs, iloperidone (Fanapt), was statistically inferior to three different competing drugs, but this information was not mentioned in the corresponding journal articles, the OHSU researchers found.
https://icmha.ca/wp-content/uploads/2012/04/052454.jpg
219
240
Island Community Mental Health
https://icmha.ca/wp-content/uploads/log-300x200.png
Island Community Mental Health
2012-04-02 18:22:00
2015-01-17 21:55:42
Publication Bias May Give MDs an Incomplete Picture of Antipsychotics