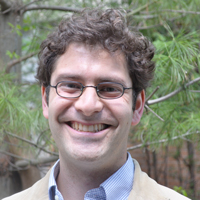 For Immediate Release
Journal of Affective Disorders
May 14, 2012
Study suggests nature walks improve cognitive abilities for people diagnosed with clinical depression
Toronto, CANADA – A walk in the park may have psychological benefits for people suffering from depression.
Dr. Marc Berman, lead author and post-doctoral fellow at Baycrest's Rotman Research Institute
In one of the first studies to examine the effect of nature walks on cognition and mood in people with major depression, researchers in Canada and the U.S. have found promising evidence that a walk in the park may provide some cognitive benefits.
The study was led by Marc Berman, a post-doctoral fellow at Baycrest's Rotman Research Institute in Toronto, with partners from the University of Michigan and Stanford University. It is now published online, ahead of print publication, in the Journal of Affective Disorders.
"Our study showed that participants with clinical depression demonstrated improved memory performance after a walk in nature, compared to a walk in a busy urban environment," said Dr. Berman, who cautioned that such walks are not a replacement for existing and well-validated treatments for clinical depression, such as psychotherapy and drug treatment.
"Walking in nature may act to supplement or enhance existing treatments for clinical depression, but more research is needed to understand just how effective nature walks can be to help improve psychological functioning," he said. Dr. Berman's research is part of a cognitive science field known as Attention Restoration Theory (ART) which proposes that people concentrate better after spending time in nature or looking at scenes of nature. The reason, according to ART, is that people interacting with peaceful nature settings aren't bombarded with external distractions that relentlessly tax their working memory and attention systems. In nature settings, the brain can relax and enter a state of contemplativeness that helps to restore or refresh those cognitive capacities.
To read more, click here.
https://icmha.ca/wp-content/uploads/2012/05/20120514.jpg
200
200
Island Community Mental Health
https://icmha.ca/wp-content/uploads/log-300x200.png
Island Community Mental Health
2012-05-22 16:43:00
2015-01-17 21:55:39
A 'walk in the park' gives mental boost to people with depression