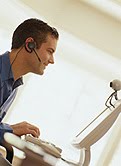 THURSDAY, Jan. 12 (HealthDay News) — Blogging appears to help teens deal with social problems, according to a new study.
It included 161 Israeli high school students, 124 girls and 37 boys, average age 15, who had some level of social anxiety or distress. They all had difficulty making friends or relating to current friends.
The students were divided into six groups. Four groups were assigned to blog, one group wrote in a private diary about their social problems and one group did nothing.
Two of the blogging groups focused their posts on their social problems, and one of those groups opened their posts to comments. The two other blogging groups were free to write about any topic, and one of those groups also opened their posts to comments.
All the blogging groups posted messages at least twice weekly for 10 weeks.
The researchers assessed all the teens' self-esteem, everyday social activities and behaviors before, immediately after, and two months after the 10-week experiment.
The teens in the blogging groups showed significant improvements in self-esteem, social anxiety, emotional distress and the number of positive social behaviors, compared to the teens who wrote in a private diary or did nothing.
https://icmha.ca/wp-content/uploads/2012/02/0101.jpg
166
121
Island Community Mental Health
https://icmha.ca/wp-content/uploads/log-300x200.png
Island Community Mental Health
2012-02-01 18:30:00
2015-01-17 21:55:45
Blogging Can Help Calm Anxious Teens