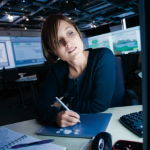 By Douglas Eby
There are many different flavors of video games – and many critical or conflicting studies on their psychological and social impacts. Articles on Psych Central, for example, include
Brain Scans Show Violent Video Games Alter Brain Activity
, By Rick Nauert PhD and
Video Games May Not Enhance Cognitive Skills After All
, By Traci Pedersen.
Gaming is not of any particular interest to me, but I was intrigued with a recent newspaper report about Erin Reynolds, a USC cinematic arts graduate student, and her team who are developing a video game that "uses heart-rate sensors to help players learn to stay calm as they wind their way through a decrepit house filled with their characters' horrific memories.
"She believes her psychological thriller game, Nevermind, can help people develop ways to cope with stress."
[From
USC competition pushes the limits of modern video games
, By Matt Stevens, Los Angeles Times December 11, 2011.]
The
Nevermind
site explains their upcoming game:
"You can't fix stress – it is a constant force in our everyday lives that spans geographic borders and cultures. However, you can fix the unhealthy, knee-jerk responses many people have to stress and prepare people to face inevitable conflict. This is exactly what Nevermind intends to do.
https://icmha.ca/wp-content/uploads/2012/02/101010.jpg
150
150
Island Community Mental Health
https://icmha.ca/wp-content/uploads/log-300x200.png
Island Community Mental Health
2012-02-01 18:34:00
2015-01-17 21:55:45
Designing Video Games for Mental Health