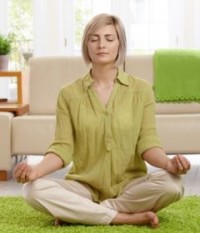 By Rick Nauert PhD Senior News Editor
Reviewed by John M. Grohol, Psy.D. on April 2, 2013
In a number of religious traditions, it is believed that meditation can improve compassion. Now, a study in the journal Psychological Science finds hard evidence to back that claim.
Recent research has already suggested meditation can help individuals lower stress and ease physical disorders such as hypertension or arthritis. The new study extends those beneficial effects to interpersonal harmony and compassion.
Researchers from Northeastern and Harvard universities, led by David DeSteno, Ph.D., invited participants to complete eight-week trainings in two types of meditation. After the sessions, they were put to a test.
For the study, researchers placed two actors in a staged waiting room consisting of three chairs. With one empty chair left, research participants sat down and waited to be called.
Another actor using crutches and appearing to be in great physical pain, would then enter the room. As she did, the actors in the chair would ignore her by fiddling with their phones or opening a book.
Click here
to read on.
https://icmha.ca/wp-content/uploads/2013/04/meditation.jpg
233
200
Island Community Mental Health
https://icmha.ca/wp-content/uploads/log-300x200.png
Island Community Mental Health
2013-04-10 18:23:00
2015-01-17 21:55:26
Can Meditation Make You More Compassionate?