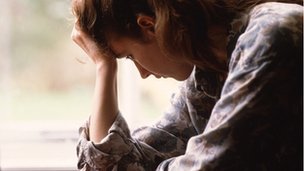 By Helen BriggsBBC News
Depression is the second most common cause of disability worldwide after back pain, according to a review of research.
The disease must be treated as a global public health priority, experts report in the journal
PLOS Medicine
.
The study compared clinical depression with more than 200 other diseases and injuries as a cause of disability.
Globally, only a small proportion of patients have access to treatment, the World Health Organization says.
Depression was ranked at number two as a global cause of disability, but its impact varied in different countries and regions. For example, rates of major depression were highest in Afghanistan and lowest in Japan. In the UK, depression was ranked at number three in terms of years lived with a disability.
Dr Alize Ferrari from the University of Queensland's School of Population Health led the study.
"Depression is a big problem and we definitely need to pay more attention to it than we are now," she told BBC News.
Click here
to continue reading.
https://icmha.ca/wp-content/uploads/2013/11/70939300_m2450002-depression-spl.jpg
171
304
Island Community Mental Health
https://icmha.ca/wp-content/uploads/log-300x200.png
Island Community Mental Health
2013-11-07 20:29:00
2015-01-17 21:55:13
Depression: 'Second biggest cause of disability' in world