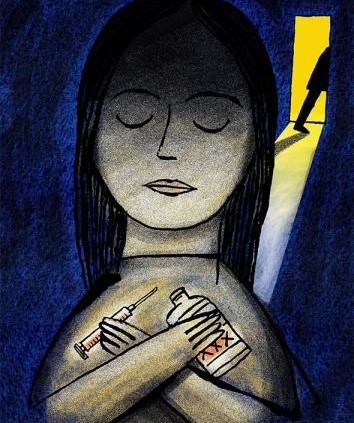 No one brings dinner when your daughter is an addict.
When my wife was diagnosed with breast cancer, we ate well. Mary Beth and I had both read the terrifying pathology report of a tumor the size of an olive. The surgical digging for lymph nodes was followed by months of radiation. We ate very well.
Friends drove Mary Beth to her radiation sessions and sometimes to her favorite ice cream shop on the half-hour drive back from the hospital. She always ordered a chocolate malt. Extra thick.
Our family feasted for months on the lovingly prepared dishes brought by friends from work and church and the neighborhood: chicken breasts encrusted with parmesan, covered safely in tin foil; pots of thick soup with hearty bread; bubbling pans of lasagna and macaroni and cheese. There were warm home-baked rolls in tea towel–covered baskets, ham with dark baked pineapple rings, scalloped potatoes, and warm pies overflowing with the syrups of cherries or apples. To continue reading,
click here.
https://icmha.ca/wp-content/uploads/2013/11/131107_family_addictIllo.jpg.CROP_.promovar-medium2.jpg
523
354
Island Community Mental Health
https://icmha.ca/wp-content/uploads/log-300x200.png
Island Community Mental Health
2013-11-13 22:35:00
2015-01-17 21:55:12
Comfort Food