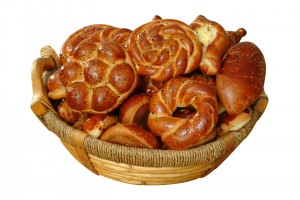 By Richard Zwolinski, LMHC, CASAC & C.R. Zwolinski
C.R. writes:
Richard and I
blogged about nutritionist Trudy Scott
a few months ago, after we read her terrific book,
The Antianxiety Food Solution
.
Recently, over on Facebook, Trudy shared
this article
at CBS, containing a video about the problems with modern wheat—the gliadin component of gluten, for starters. We were seriously happy to see this getting the main-stream attention it deserves. Scoffers abound, but gluten intolerance can contribute to a whole range of mental and physical health issues.
For example, autism. In a post called
Whole-Body Strategies for Autism
we explore Harvard professor and pediatric neurologist and researcher
Dr. Martha Herbert's
cutting-edge holistic brain-gut approach to treating autism. Why is this still cutting-edge? After all, we've known about what's sometimes called the s
econd-brain or the brain-gut
relationship for a while. (The second brain is the digestive tract! and its impact on brain function).
In the past, I've written about the serious mental and physical health problems we're seeing with gliadin and gluten. Over on my blog HealthyJewishCooking.com you'll find a variety of posts (one on GABA rice, which is a sprouted rice, one on the possible link between serious (and mild) digestive disorders and personality, and several posts on minimizing or avoiding gluten including the art of bread making and how you can maximize its digestibility with recipes and techniques for slow yeast-based fermentation, authentic sour dough starters, or sprouted grain breads. Click here to continue reading.
https://icmha.ca/wp-content/uploads/2012/09/2.jpg
200
300
Island Community Mental Health
https://icmha.ca/wp-content/uploads/log-300x200.png
Island Community Mental Health
2012-09-20 22:41:00
2015-01-17 21:55:32
Does Gluten Cause Mental Illness?