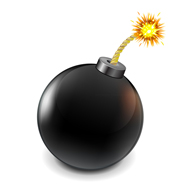 By AARON KARMIN
If you're struggling with out-of-control anger, you may be wondering why your fuse is so short. Anger problems often stem from what you've learned as a child. If you watched others in your family scream, hit each other, or throw things, you might think this is how anger is supposed to be expressed. Traumatic events and high levels of stress can make you more susceptible to anger as well.
In order to get your needs met and express your anger in appropriate ways, you need to be in touch with what you are really feeling. Are you truly angry? Or is your anger masking other feelings such as embarrassment, insecurity, hurt, shame, or vulnerability?
If your knee-jerk response in many situations is anger, it is very likely that your temper is covering up your true feelings and needs. This is especially likely if you grew up in a family where expressing feelings was strongly discouraged. As an adult, you may have a hard time acknowledging feelings other than anger.
Clues that there's something more to your anger
You have a hard time compromising. Is it hard for you to understand other people's points of view, and even harder to concede a point? If you grew up in a family where anger was out of control, you may remember how the angry person got his or her way by being the loudest and most demanding. Compromising might bring up scary feelings of failure and vulnerability.
https://icmha.ca/wp-content/uploads/2013/07/bomb.jpg
190
190
Island Community Mental Health
https://icmha.ca/wp-content/uploads/log-300x200.png
Island Community Mental Health
2013-07-16 20:01:00
2015-01-17 21:55:23
What's Behind Your Anger?